Documentation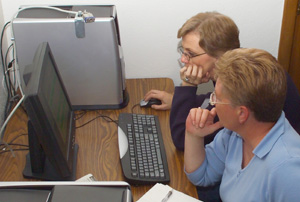 Course Coordinator Manual [Downloadable PDF File ] The Course Coordinator Manual explains how to carry out common course management tasks in LON-CAPA, such as creating a course from published resources in the LON-CAPA system, importing classlists, changing course settings such as due dates for homework problems, and managing grades using the LON-CAPA spreadsheet etc.
Author Manual [Downloadable PDF File ] The Author Manual explains how to create homework problems, and also how to develop course materials in re-usable sequences which can then be imported into any number of different courses.
Domain Coordinator Manual [Downloadable PDF File ] The Domain Coordinator Manual explains how to manage your own instance of LON-CAPA: creating courses, users, authors, etc.
I have used LON-CAPA for my classes since 2002. Since students each have individual homework problems they can help each other, but not copy. I have found a difference in test scores just from that! A few of the other features I really like are: groups (students can work on a project on their own schedules, but turn it in as a group project), the discussion board (students can post questions on their time schedules and I can answer it on my time schedule! - I rarely stay awake as late as my students!) and email. I also love access to the problems written by other teachers/professors - I know my students are working on the same level as other schools!
- Kathryn Ebrahimi, Physics teacher, Roosevelt High School, Wyandotte, USA
Contact Us: lon-capa@lon-capa.org
Site maintained by Gerd Kortemeyer.
Supported by the National Science Foundation under NSF-ITR 0085921, NSF-CCLI-ASA 0243126, and NSF-CCLI 0717790. Any opinions, findings, and conclusions or recommendations expressed in this publication are those of the author(s) and do not necessarily reflect the views of the National Science Foundation. Initial funding for CAPA has been provided by the Alfred. P. Sloan Foundation and the Andrew W. Mellon Foundation.