Hardware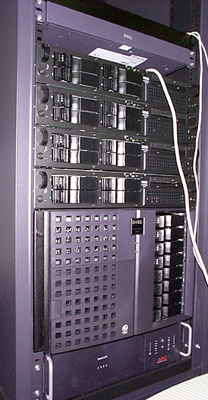 LON-CAPA runs on Intel and AMD hardware. The default setup for a LON-CAPA machine is to operate as a dedicated server (real or virtual), and for maintenance reasons, it is recommended to keep it that way.
The most common use of LON-CAPA is online interactive homework in large enrollment (400 students or more) courses. Students are usually working right up to the deadline, and strong peak workloads are to be expected.
A typical $3,000 server machine (Spring 2010) can handle between 20 and 30 transactions (complete homework submissions) per second.
If you are expecting less than 20 transactions per second, one library server (database backend) doubling as access server (session host) will be sufficient. The next upgrade step will be to add two access servers. You can add up to 10 loadbalancing access servers per library server with an almost linear increase of transactions per second. The next upgrade step beyond would be an additional library server.
Recommended specs for library and for access servers are different: access servers should have a relatively high amount of RAM (approx. 4 GB), and processing power (dual processor or dual-core recommended), but can have smaller and slower disk drives. Access servers do not need to be backed up. Library servers should have high disk throughput and capacity (RAID recommended), and backup tapes or backup applications are essential. Library servers have also been installed in a connection with a SAN.